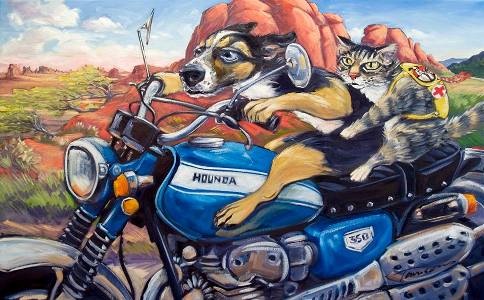 When: Sunday – Sept. 8th, 2013
Registration begins at 9 a.m.
Take off at 11:30 a.m.
Where:
Join us for a buffet breakfast at the Olde Sedona Bar & Grill and ride to the beautiful area of Pine, AZ.
Pets have a way of lifting up our hearts during hard times, by providing love and a companionship so strong the connection we feel with them stays in our hearts long after they have passed. In honor of National Pet Memorial Day, Red Rose Inspiration for Animals is proud to announce our 1st annual Ride for Rescue event! We welcome everyone to bring a picture of their own special pets who are no longer with us, so that we may add the photo to our framed pet memorial poster.
Registration for the event begins at 9:00 a.m. on Sunday, September 8th. We will meet at the Olde Sedona Bar & Grill [1405 W Hwy 89A, Sedona, AZ 86336], where all of our registered riders and passengers will get to enjoy FREE buffet breakfast (complete with eggs, potatoes, pancakes, coffee, and juice) and receive a coupon for a FREE slice of pie – that's right pie – and ice cream once we arrive in the beautiful town of Pine. This event will also feature raffles, vendors, and more! The motorcycle "Ride to Pine for Pie" takes off at 11:30 a.m!
We ask for a $25 donation in order to register as a rider for this event, $15 for a passenger. 100% of the proceeds from this ride goes toward our Emergency Medical Fund and our Free Spray / Neuter Fund for Felines and Canines. Registered riders will also receive a pin and an event t-shirt! So please come join us in honoring the pets we've loved and in supporting a dedicated community animal rescue organization!
For more information please visit the event's Facebook page.